Celebrity Mercury Onboard Experience
The newest of the Century-class of ships, Celebrity Mercury allows her guests to enjoy live music, dance or even relax and meet other cruisers while onboard.
Main Show Lounge
Mercury Theatre
Even the most avid cruiser will contest that the Mercury Theatre not only has a wide variety of engaging shows but also offers the best sight-lines from every seat in the house. The stage in the Mercury Theatre comes alive every evening with special effects and Broadway-style productions.
Lounges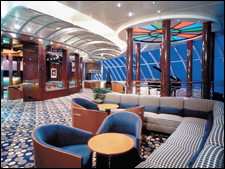 Ensemble Lounge
Trendy decor and soothing entertainment make Ensemble Lounge the perfect gathering place. Whether enjoying a cocktail before or after dinner, guests find the lounge an ideal spot for any time of night.
Navigator Club
Expansive floor-to-ceiling windows in the Navigator Club allow you to take in amazing views while either learning ballroom dancing in the morning or enjoying an evening cocktail.
Sky Bar
One of the many places onboard to enjoy your favourite cocktail, the Sky Bar boasts a terrific view of blue skies and the even bluer seas, making it a great place to unwind while onboard.
Martini Bar
Sophisticated, trendy, and posh like a Manhattan hotspot, the Martini bar serves guests some of the best cocktails at sea.
Campagne Bar
Some bubbly from the Champagne Bar is guaranteed to set the mood right and is also a great way to celebrate any special occasion.
Rendez-Vous Square
Rendez-Vous Square is a destination where you can meet, mingle and make new friends. Elegant décor, coupled with live music, make this lounge an elegant beginning - or ending - to a memorable evening.
Nightlife
Pavilion Night Club
Whether it's after-dinner cocktails or dancing that you desire, the Pavilion Night Club is the trendy place to be. Located on the Entertainment deck of the Celebrity Mercury, this stylish club provides an engaging evening for guests.
Michael's Club
Contemporary atmosphere, unique drinks and great clientele make Michael's Club a favourite onboard all Celebrity ships. It is the perfect place to socialize with other guests while being entertained by a live pianist.
Facilities
Rialto Galleries
Take a tour of all the dazzling works of arts and other displays that are onboard the Celebrity Mercury in these galleries. Located on the entertainment deck, the gallery ballrooms can also be booked for special occasions.
Cinema and Conference Centre
The conference centre often features enlightening lecture series given by Celebrity's team of naturalists. These special enrichment programs include slide and video presentations. Films are also regularly featured in the centre.
Spa & Fitness on Celebrity Mercury >>